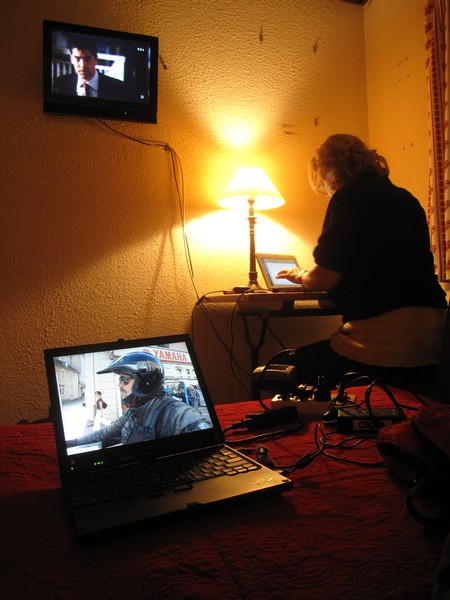 Latest Comments
SINCE MY F650 DOES NOT HAVE A FUEL INDICATOR, HOW MANY LITERS DO I HAVE IN TANK WHEN FUEL LIGHT TURN ON? IS IT 4 AS PER THE ARTICLE 4 RESERVE.
By TOM ZAIDMAN
To the page with the comments
---
Your post on braking has helped me reconcile and organise the braking techniques I've been picking up through various training activities I've taken. Emergency (front only and clutch in), regular road braking (both), corners to scrub off a little speed(rear but maintain throttle). May I add another advantage of pulling in the clutch during emergency front wheel on braking; if the rider "forgets" in his panic to close the throttle fully then holding in the clutch prevents the rear wheel drive accidentally re-engaging and shooting the rider forward after they'd already stopped!
By Karl
To the page with the comments
---
Thank.
By Rama lingeswara Rao B
To the page with the comments
---
Hi from New Zealand I've just discovered this site. Sound advice. Hadn't ridden for 30 years. Test rode 16 different bikes (500 to 1250cc). Realised I needed a midsized bike and one not too heavy so that I would learn quicker. Bought a Yamaha XSR900, as light as the Honda CB500F. Did my first riding course within 3 days of getting my bike. Spent hours practicing in a carpark, especially emergency braking. Have done more courses including a track day recently. I look back over the last 2 years of riding and 20,000 km travelled and am astounded by how much my riding has changed and improved with consistent training. It is also true that the better you get the faster you go. Also start by going slow and the speed will come. I had a target of getting to the next 10,000km without an accident or dropping the bike. The closest I've come to dropping it has always been during slow speed maneuvers, especially very tight and full lock turns. The advantage today is there are some excellent online mentors. I also had Dave Moss set up my suspension (we are lucky that he comes to NZ).
By Mike Palmers
To the page with the comments
---
Hi Bob, we are of the same vintage! I have had a succession of Triumphs over many years and now at 71 I fear I may not bounce as easily if I go down. New left hip and right knee, from too many years of judo at a competitive level, sold my 1983 Bonnie 3 years ago as I thought my new knee would not be good enough. now I am back on a 2002 Triumph T100, electric start, no oil leaks that can cause skids, better brakes, ABS which is a new concept to me, just 5k miles on the clock, windscreen and now exploring around the rural roads of Hemswell in Lincolnshire, UK. I have decided to enrol for some BikeSafe training with the local police for a day and then maybe progress to higher levels. Its good to be back on two wheels but I fully appreciate that we can be almost invisible to car drivers, narrow profile of course, so I use day lights. I am a Trainer in my own business and so I appreciate that added knowledge, even when we THINK we know it all, can be a real life saver. What works for me is thinking ahead, knowing my capabilities and riding within them. The info here on braking is excellent and I am next door to ex RAF Hemswell where I will be using the peri tracks for some test braking. Its an extra 30kgs over the old Bonnevilles and so that added weight can help the braking road grip, but also hinder through the momentum .. safe riding everyone, Liam
By Liam Nolan
To the page with the comments
---
I love to read any tips that I can get my hands on, to improve my motorcycle riding experience. Thanks for sharing these nuggets with us. Please do more and more of these.
By Omar
To the page with the comments
---
Thanks for sharing this useful post. I got to know many newer things from here.
By Joshua D. Mattie
To the page with the comments
---
hello Travelling from Amsterdam to Verona next year, around the fist week in June 2020. Can anyone tell me if there is a train we can put our motor cycle on.
By jacquie hines
To the page with the comments
---
Great article recently pass MSF course now have my license. I have a Yamaha Bolt which I ride alone. Taking my time only riding in my community. Still trying to build my confidence I'm still nervous about my curving even though it's better than I thought it would be. I'm ready to do some serious riding but I don't want to be get out there before I'm ready. What would you recommend not scared just want to be safe. Thanks
By Jimmy Wilson
To the page with the comments
---
Just read your artical on braking And just wish I had read it before I picked up a new cruiser type bike to ride home. After many years riding sports type short wheelbase bikes I had to brake slightly hard for a driver who had come round a round about quickly after changing there mind !!!! and applied the front brake the same as my Bonniville and yes the front washed out so easily so didnt use the back at all ,so no weight tranferance ( so lesson learned the hard way luckly hardly any damage to bike , thanks to leather bags on the bike just some bruises for me and wounded pride I had never had an off whilst moving before in many years of riding and was a real suprise as would not have happend on my other bikes I have ridden
By Ray
To the page with the comments
---