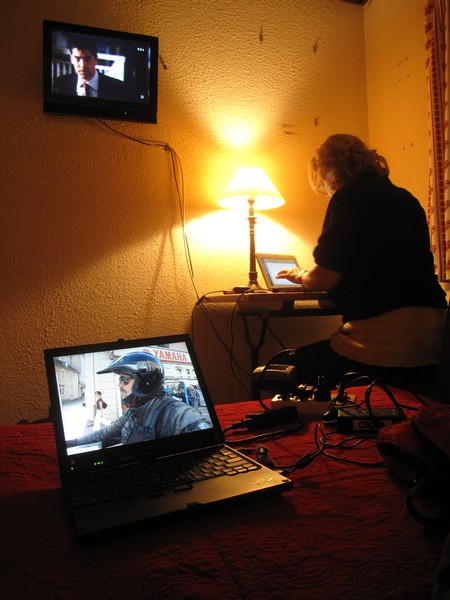 Latest Comments
Hi. I've just bought a Road King and use it in Portugal on plenty of curvy roads. Using my XT600 before I taught myself not to use the relatively useless rear brake at all on the road. I've been reading a little about trail braking but it doesn't feel good to use the front brake and throttle at the same time on this bike. Knowing that while slow maneuvering using the rear brake can stabilize things today i tried cornering by keeping the throttle open somewhat and rear braking a little then easing off the brake when rolling on the throttle. It feels OK and I can concentrate foot and hand doing only one thing plus powering the throttle all the way down and then opening up to come out of the corner usually gives a slight kick to the back wheel as the power comes back to the wheel. This way the power is never fully off the wheel. Anyone got any thoughts on this? Is it a plausible technique or am I heading down a wrong way. The bike has ABS but I'm not relying on it.
By Alan Carter
To the page with the comments
---
Thank you! I got my licence toward the end of last year and rode my beautiful Bonny for a couple of months before putting her away for the winter. Now the sun is shining and friend's are out riding again and I find myself a little paralysed by fear! So I googled "nervous motorbike rider", found a wealth of information and encouragement on your site. You inspired me to go and practice some of the things I've been reading! Unfortunately, I went out to ride but my battery was flat (after the long winter and only starting her up once - naughty me) but I still got as far as having my jacket, gloves and helmet on and sitting in the driveway raring to go. So again, thank you! I'll be back on two wheels with my biker buddies in time for the glorious summer's riding. I'm still apprehensive but can see myself making this corner!
By Deb
To the page with the comments
---
Admiring the dedication you put into your website and detailed information you provide. It's nice to come across a blog every once in a while that isn't the sane outdated rehashed information. Fantastic read! I've saved your site and I'm adding your RSS feeds to my Google account.
By apprendre à trader
To the page with the comments
---
Thankyou for your complete explanation, it's very helpfull. I think from now on I'll follow your guidance. Salam from Indonesia :)
By seal555
To the page with the comments
---
I wish you many happy miles!
By lazymoto
To the page with the comments
---
Thank you very much, important knowledgeable stuff. From a soon to be returner.
By bob wheeler
To the page with the comments
---
Most people will offer you their garage, although I do not think it is necessary when your bike os not visible from the street. I wish you a happy time!
By lazymoto
To the page with the comments
---
Thanks for the site and info. I'm planning a trip from The UK to just N of Prague. I'll have about 4 days in Prague and about two weeks total. I've been looking at taking the tunnel and then heading to S of Germany along the Swiss border and the returning using another route. I've been looking to stay in some BnB's but I'm worried about motorcycle security. Is it a problem? Should i only look for places with off street secure parking?
By Bob
To the page with the comments
---
Great thread, I'm still learning better ways to do things after 69 years. I'm often guilty of gearing down too late as I enter curves, especially on sloping mountain turns(Of which there are many here in Northern Thailand) and the rear tire does slide out a little in response so I'll be working on that one. Have to put in my two cents about using knees for turning. I often do this for feedback pressure in what I'm doing. While simply pushing your knee against the tank would not change balance and cause a turn what it does do is allow you to lean to the side and the off balance (say to the left) cause the angle of the front wheel to also change and you will go to the left. I use this to go straight with the clutch disengaged and hands off the bars . . . so as to put on my gloves which I forgot to do, for instance. I also do hands off coasting to check that the back wheel is in line after a major chain adjustment. If the back wheel is slightly off or the frame is bent it is very hard to go straight and using knee pressure leaning allows me to keep the bike straight. I like to think of cornering as a matter of balance because the bike is designed to go straight by putting in a castor angle to the front fork. Anyway a bike can be forced to go straight even leaning at a 30 degree angle if you compensate by putting your weight to the opposite side. Likewise the bike can be almost straight up and also turn if your weight is heavy to the inside. Make that four cents worth, sorry.
By dave
To the page with the comments
---
Thank you very much, wish you many happy and safe miles ;-)
By Armando Mateus
To the page with the comments
---